Ignition systems for gas engines
Motortech ignition systems for gas engines offer the customer solutions for practically all types of engines on the market. Cooperation with leading engine manufacturers, packers and operators has resulted in specific designs capable of maintaining optimum engine performance in a variety of applications.
All the ignition systems that RS Motor supplies to its customers are pre-assembled and tested at the factory.
As a consequence of this, both assembly and plant installation become simpler and more intuitive.
Complete ignition system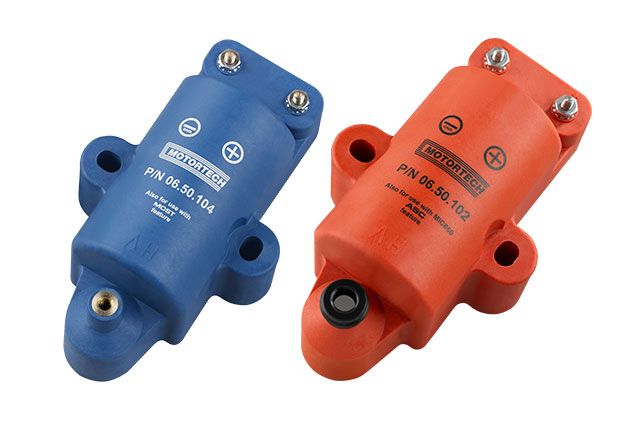 RS Motor, in collaboration with Motortech, offers a complete solution for the control of gas engines, available in the following configurations:
Solutions for all engines between 2 and 20 cylinders.
MIC ignition boxes.
With PolyMot ™ ignition cables.
Customized length of cables.
Ignition conversion kits.
Conversion kits
Motortech offers complete conversion kits with the latest electronic ignition to anyone wanting to save future costs in this area.
Reduce your downtimes and extend the life of your systems – and save material and personnel costs – by "upgrading" your ignition system.
---
Kits de conversión
Conversion kits for "updates" allow current obsolete ignition systems to be replaced by more modern and efficient ones.
These conversion kits offered by RS Motor reduce the downtime of the engine, and consequently the plant. As a result, the useful life of the systems will be prolonged, and material and personnel costs will be drastically reduced.
---
¿Why to choose RS Motor?
Our customers trust RS Motor when they want to make modifications to the ignition systems of their gas engines for various reasons:
– Competitive price.
– Personalized technical advice.
– Direct communication channel with Motortech.
– Experience acquired over the years.
– Many successful projects.
Countries to which we supply ignition systems
Our current market is global. In this case, as RS Motor is only an official Motortech distributor in Spain and Portugal, we only supply ignition systems to those countries.
In any case, we can still help our customers technically wherever they are in relation to other types of technical consultations or technical advises.
Request a quote
Request an economic and technical offer to RS Motor if you need an ignition system or a conversion kit for your gas engine.
RS Motor is one of the few companies worldwide with the capacity to supply and implement state-of-the-art ignition systems, regardless of the type of gas consumed by the engine on which you wish to install it.
Do not hesitate to contact RS Motor if you decide to change your engine's ignition system for another more intuitive, economical, and, at the same time, efficient. We are at your entire disposal to help you in the best possible way.
---
MOTORTECH WORK AREAS